CSR Impact Awards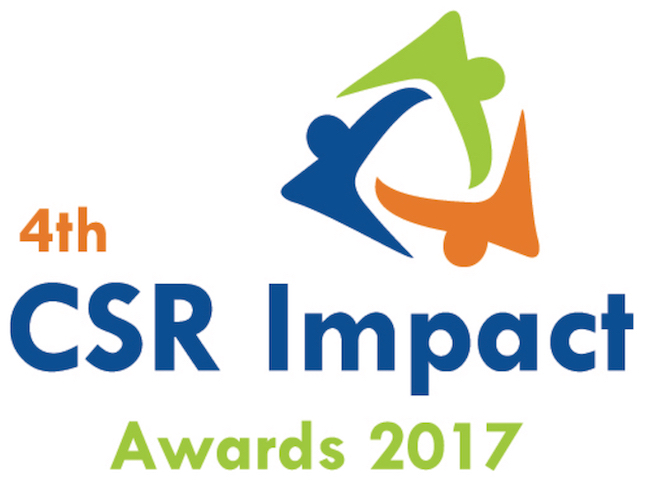 4th CSR Impact Awards 2017
Hyatt Regency Gurgaon
Application Deadline: 3 Sept. 2017 Download CSR Impact Awards Brochure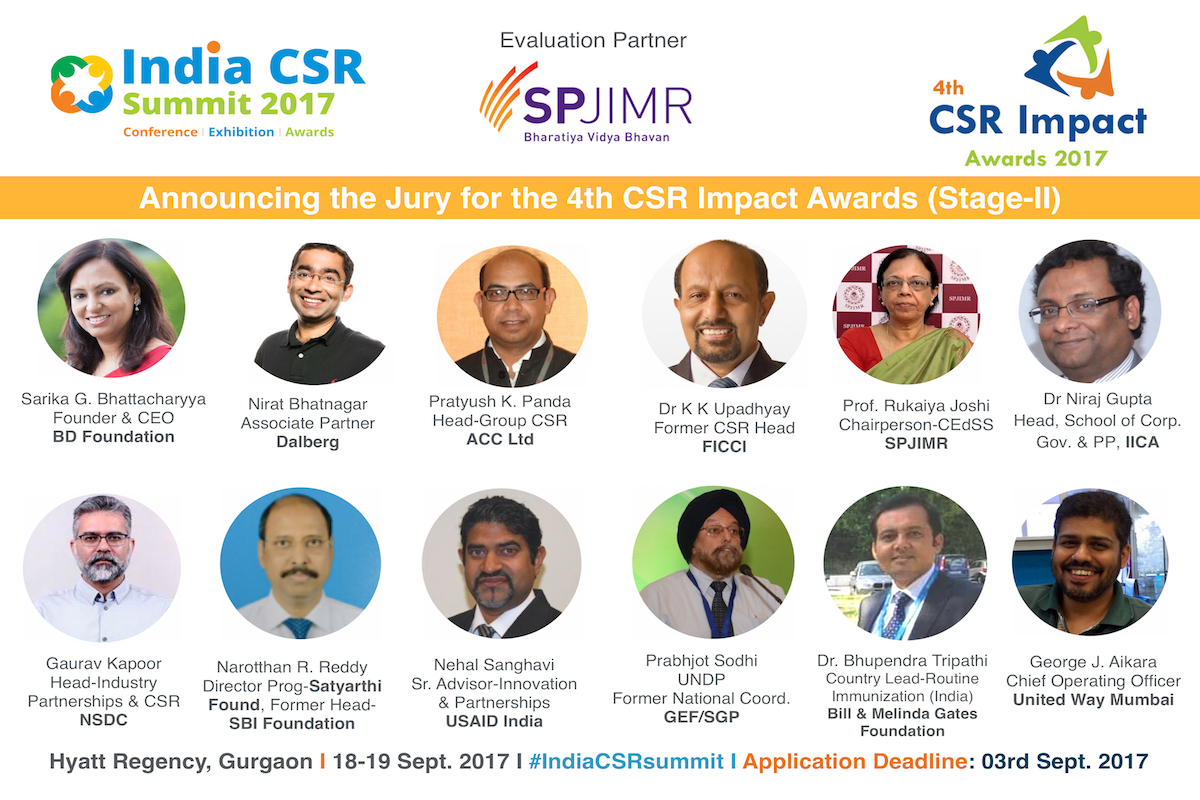 The CSR Impact Awards is an initiative of NGOBOX to encourage companies, CSR foundations and CSR implementing agencies to deliver high impacts through CSR projects and adopt multi-stakeholder approach leading to excellence in project outcomes. This initiative focuses on identifying high impact CSR projects in 15 categories at Pan-India level. The Awards seek to appreciate project specific impacts made by the organizations in particular thematic areas, to set benchmark in project planning, identification of partners and delivery of results.
The Awards are presented in a gala ceremony during India CSR Summit & Exhibition every year. This year the event is being held at Hyatt Regency, Gurgaon on 18-19 September 2017. The event information is available at www.indiacsrsummit.in . The 2017 Awards ceremony will be covered by one of the largest English TV news channels of the country and a special episode will be telecasted on the channel.
We have partnered with institutions and organizations of repute to take collaborative steps to recognize CSR projects with excellence in delivering through partnership, persistence and project or programme-based approach.
This is the fourth edition of our annual Awards. The previous three editions of the CSR Impact Awards (2014, 2015 and 2016) were highly appreciated by companies, implementing partners and CSR foundations. The 2014 awards received entries from 35 of the BSE top 100 companies in India including projects of ITC, Maruti Suzuki India, DLF, Hindustan Coca Cola, ACC, Essar, Tech Mahindra, Wockhardt etc. while in 2015 there were 42 applications from a range of organizations including Reliance Foundations, Dr Reddy's Foundations, HPCL Ltd, Intel, Grasim, Ultratech, Bosch Ltd, Lupin Foundation, JK Lakshmi, L&T Finance, Hindustan Zinc, Vedanta, ACC, PVR, Sterlite Tech, WNS Global, UPL Ltd, Cholamandalam, JK Tyre, Utkal Cement etc.

In 2016, we received 75 applications from organizations like HSBC, Intel, Renew Power, Tata Chemicals, Jubilant Foodworks, SRF Foundation, Dalmia Bharat, Essar Foundation, Cairn India, ITC, Lupin Foundation, DHFL, Biocon Foundation, Sterlite Technologies, Magma Fincorp, Jana Foundation, JSW, CRISIL Foundation, Edelgive Foundation, Aditya Birla Financial Services, ICRISAT etc.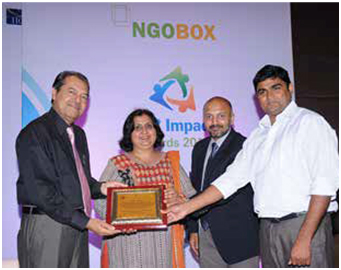 Number of Awards
This year the CSR Impact Awards have been demarcated into two broad sections:
a. CSR Funding Agency (Where the company/CSR foundation has just been funding the project to be implemented by other agency or agencies and/or where companies themselves are implementing the CSR project.)
b. CSR Implementation Agency (Where the organization has been implementing the CSR project on the ground, this can be any implementing agency that has been signed as a partner in CSR project by funding agency)
In each category (from categories 1 to 9) there will be two awards;one for funding agency and the other for the implementing agency*. In category 15, there will be three awards. There can be a special Jury recommendation award, based on an extra-ordinary application.
*subject to minimum number of applications required in each category
Objectives
The overall objectives of the CSR Impact Awards are to:
♦ Identify best CSR projects in key thematic areas and understand how organization can deliver high impact CSR projects


♦ Highlight the success of CSR projects and commitment of the organizations by recognizing them at the national level


♦ Motivate companies, CSR foundations and implementing partners to deliver high impact CSR projects through collaborative approach


♦ Recognize businesses endeavor to partner with organizations delivering high impact


♦ Enhance the exchange of CSR best practices


Five reasons to apply
1. Gain recognition in the corporate and development sector as a socially committed organization
2. Increase your reputation and credibility at the national level
3. Showcase your organization's innovation and commitment to delivering impacts in alignment with Government's focus on Water and Sanitation, Healthcare, Education, Livelihood, Skills Development etc.
4. Celebrate winning partnerships at the prestigious award ceremony
5. Get media coverage and outreach for your project impacts
Eligibility
♦ The applicant organization must be a company or CSR foundation/trust or an implementing partner for CSR project and the project must have been supported by a company/CSR Foundation under its CSR initiative.


♦ The applicant entity must have legal status as company/NGO/Trust/LLP and be registered in India or have a subsidiary/alliance in India.


♦ The minimum duration of the project should be one week (Except Employee Volunteering category) and project must have been assigned/renewed or have been in continuation in Financial Year 2016-17.


♦ For the category 15, any business/organization that has been ex can apply for the award


Awards Application Timeline
Application period: Award application period: 15th May to 3rd Sept. 2017
Stage I Screening of Applications: 30th Aug. 2017
Stage II Jury Round: 7th- 10thSeptember 2017
Award ceremony: India CSR Summit& Exhibition 2017, 18-19 September, Gurgaon (in the inaugural session of the event)
Award Categories
1
Healthcare
2
Education
3
Skills Development
4
Livelihoods
5
Environment
6
WASH (Water, Sanitation and Hygiene)
7
Women Empowerment
8
Rural Development and Infrastructure
9
Special Categories (Old Age, Specially-abled and others)
10
Employee Volunteering Initiative
11
CSR Project of the Year 2016-17

Special Awards

12
CSR Foundation of the Year 2016-17 (only for CSR Foundation)
13
Company with Best CSR Impacts (2016-17) Only for companies
14
CSR Implementing Agency of the Year 2016-17 (For implementing agency only)
15

Beyond CSR-Workplace Diversity & Inclusion Award 2017


a. Large Companies (5000+ employees)
b. Medium Companies (1000-5000 employees)
c. Small Companies (100-1000 employees)
d. Nonprofit, Startup and others
Note: In case there are less than three entries in a category, the applications will be automatically evaluated under CSR Project of the Year 2016-17 category. The Jury has all the rights to evaluate applications in a category where the project fits best, even if the award application has been submitted in a different category.
CSR Impact Awards 2017 shall be awarded in following fifteen categories along with one special category of Beyond CSR:
1. Healthcare: Projects in healthcare, public health, preventive healthcare, use of technology in healthcare leading to better healthcare services or outcomes
2. Education: Project in education, special education, awareness building, education infrastructure.
3. Skill Development: Project in vocational skills and employability enhancement among children and youth
4. Livelihoods: Project in areas of creating livelihoods opportunities, sustainable livelihoods, economic empowerment, market-linkages for community products, agriculture value-chain, SHGs capacity building etc.
5. Environment: This category covers projects in areas of energy, renewable energy, environmental sustainability, ecological balance sustainable transport, waste to energy, recycling, natural resource management, conservation, plantation etc.
6. WASH: Projects in line with water and sanitation, hygiene, Swachh Bharat Mission, behavioral change for use of sanitation and push for cleanliness in project/programme mode.
7. Women Empowerment: Promoting gender equality, Empowering women to participate fully in economic life across all sectors, setting up homes and hostels for women
8. Rural Development and Infrastructure: A rural development and infrastructure project for better public facilities, better living conditions and improvement in terms of access, quality of life in rural area. For example construction of road, bridge, community hall etc.
9. Special Categories (Old Age/Specially-abled/armed forces etc): This is a broad category covering areas of old age related work, specially-abled persons, orphan children, street children, armed forces related project. (covers areas not covered in any of the above categories)
10. Employee Volunteering Initiative As employee volunteering has been listed as one of the CSR project/intervention area as per the Companies Act 2013, we would like to see how companies are engaging their employee for volunteering with communities or for a cause. (Please note that there is a specific form for this category).
11. CSR Project of the Year 2016-17 Award: For an outstanding project that combines innovation with high impacts-delivery in any of the thematic areas. The applicant agency should be convinced that the project and its impact have merit to be recognized as 'CSR Project of the Year 2016-17.
Special Awards
There are few special categories of Awards that looks at over-all organization/s engagement in projects or programmes to maximize the impacts in relevant theme or overall impacts. These special awards looks at how organizations have walked an extra mile to achieve visible and long-lasting impacts and how their efforts become a model for replication.
12. CSR Foundation of the Year 2016-17 (Only for CSR Foundations): The foundation set up by any company or consortium of companies either to manage CSR fund or to implement CSR projects can apply in this category. The broader evaluation parameters are how the foundation has successfully followed the CSR mandate of the company and how they have tried to deliver best possible impacts at the project or programme level whether through direct implementation or through banking on the expertise of the other implementing partners.
13. Company with Best CSR Impacts (Only for companies): This category looks at the overall initiatives, impacts and sustainability of impacts through CSR. This is all about overall intend, efforts and impacts that an organization has made or have been making through its various CSR projects and programmes. These initiatives can be stand alone or through partnerships or association of more than one organizations.
14. CSR Implementing Agency of the Year 2016-17 : This category caters to identifying one of the best CSR implementing agencies in India. The award looks at CSR partnerships with companies/CSR foundations, CSR projects & programmes, focused approach towards solution to development challenges, CSR impacts and scalability of the operations in future.
15. Beyond CSR:Workplace Diversity & Inclusion (D&I) Awards: A diverse and inclusive workforce is necessary to drive innovation, foster creativity, and guide business strategies. Multiple voices lead to new ideas, new services, and new products, and encourage out-of-the box thinking (Forbes).The award recognizes:
☞ Innovative programmes which are targeted at strengthening diversity and inclusion at the workplace
☞ Endeavors made by organisations through policies, procedures, technology and advocacy measures to foster inclusion.
Award/Application Benefits
♦ One special invite will be sent to the CEO/Top management of the Award winning organization in each of the categories


♦ Each application comes with one delegate pass for India CSR Summit & Exhibition 2017 (Hyatt Regency Gurgaon, 18-19 Sept 2017), excluding access to premium masterclasses.


Assessment Process and the Methodology
Stage I: Screening round
This will be entirely based on the application form filled by the organization. The detailed application form has been divided into various sections and each section has certain weight- age.
Stage II: Jury Round
After the screening round top three entries in each of the category would be selected. The selected organization could be called for an interaction (Google hangout or Skype call) with the Jury, if required. The jury would assess the organizations on pre-decided evaluation criteria.
The applicant organization may have to present project in front of the jury members (during the jury round) via tele-conferencing, Google hangout or Skype call, if required. A prior notice of the same will be given 3-5 days before the scheduled call.
Evaluation Partner- SPJIMR Mumbai
We have S P Jain Institute of Management & Research (SPJIMR) as the Evaluation Partner. SPJIMR is a premier B-School with a special course for development sector professionals.
Application fee
For Category 1 to 11
Application Fee/Category/Application
CSR Project Budget in FY 2016-17
Companies /CSR Foundations
CSR Partners/NGOs
CSR Project spending of above INR 1Cr
INR 30000+Taxes
Total INR 34500
INR 10000+ Service Tax@15%
Total INR 11500/- Application
CSR Project spending of INR50 Lakh to 1 Cr
INR 20000+ Taxes
Total INR 23000
CSR Project spending of below INR 50 Lakh
INR 15000+Taxes
Total INR 17250
Application
Category 15-Workplace Diversity & Inclusion Awards
5000+ Employees: INR 34500
1000-5000 Employees: INR 23000
100-1000 Employees: INR 17250
For category 12, 13 and 14, over all organization budget will be calculated as per the above fee classification.
Applying for more than one category
♦ If an organization (Other than NGOs) is willing to submit a project in more than one category, they need to pay INR 9200 (all inclusive) additional for each additional category for the same project.


♦ For an NGO the charges for additional category are INR 5750/- (all inclusive).


♦ If an organization is submitting two separate projects in two different categories, they have to pay per category application fee as mentioned in the table above.


For application process and application forms, please visit the Application Process page
For any query/clarification, contact
Shilpi Jain
Head-Partnerships
csr@ngobox.org
ngobox2012@gmail.com
☎ +91-9560352170
Operation Office
NGOBOX (Renalysis Consultants Pvt Ltd)
A2/610, Palladium,
Corporate Road (300m from Vodafone House),
Prahlad Nagar,
Ahmedabad 380051 (Gujarat)
Corporate Office
Suri Business Centre,
551-551B, Spaze I-Tech Park,
Tower-B, Sohna Road,
Sector 49
Gurgaon 122001